QUALITY CHRISTIAN WEB DESIGN COMPANY
WE BUILD WEBSITES THAT DELIVER RESULTS
More than 500+ small business and non-profit owners trust CI Design's Professional Website Design Services . Backed by our hundreds of customers and 18+ years of being a family owned and run business, we are proud of our reputation for personalized services. Our focus is to bring online success to our customer's businesses.
CI Design Helps Your Business:
Capture more leads – Beautiful website designs that capture your target audience attention and drives them to what they need.
Improve Conversion Rates – Get in front of the right people who want to buy from you right now, with targeted SEO and professionally crafted marketing campaigns,
Master e-commerce – Provide a seamless online shopping experience for your customers
Many of our clients have been happily with us for years and our new clients look forward to being with us for years to come. Take some time to look over our quality work and feel free to contact any of our wonderful clients.They will be more than willing to recommend our personalized attention and services.
We Serve All Industries
We stay on top of our industry by being experts in yours.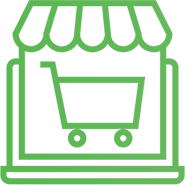 Josh and the team are excellent! They deliver what they promise and work tirelessly to give you a great, professional website experience. After being burned more than once, I finally found a company that I can trust!
This is a family company. A quality family company. They have served me well from the first conversation to many years of overseeing my website! Appreciate their kindness, expertise, professionalism, and friendship! I highly recommend Christian Internet Design!
Excellent prices, good explanations and knowledge, always did what they said they would do and great attitude. Couldn't ask for better service!
We recommend your team because of your one-on-one attention. Quick answers to my questions and concerns. Price. You have tried to really get a feel for what we do, and promoted that. Plus, You are faithful Christians!